Please note: current we could only deliver to the following campus at the fixed time. Please check your schedule before making the order.
---
Please order before 11am in order to receive the delivery on the same day.
==  Mon-Sat Only  ==
Edinburgh Univ.
Holyrood North (12:20pm)
Richmond Place (12:35pm)
Main Library (12:45pm)
Napier Univ.
Merchiston Campus (12:30pm)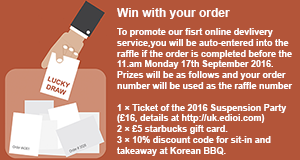 Free miso soup with all lunch options
所有外卖均配送味增汤